Product spotlight: SYA16K16PXR Symmetra tower UPS system
Every critical environment requires redundancy in order to protect equipment and data from unexpected power disruptions like power surges. The SYA16K16PXR Symmetra LX tower is a UPS system designed to provide uninterruptible power to mission critical systems. Like all APC products, this power conditioning system is engineered to provide clean, reliable power with efficiency.
Specifications
The Symmetra LX provides the most reliable power conditioning available.
Output power capacity: 12.8 kW / 16 kVA
Max configuration power: 12.8 kW / 16 kVA
Nominal output voltage: 20V, 208V, Configurable for 120/208 or 120/240 output voltage
Nominal input voltage: 208V
Battery type: Maintenance-free sealed Lead-Acid battery with suspended electrolyte
Average recharge time: 3 hours
Features
The SYA16K16PXR is engineered by APC to provide reliable, efficient power protection and scalability for your IT infrastructure. Avoid damaging downtime in the event of a blackout by keeping your most important hardware running with continuous power.
Power interruption protection: Protect equipment from damage in the event of a lightning surge or other unexpected power disruption.
Scalability: Avoid overpaying for unused capacity and upgrade quickly when needed.
Hot swap-capable batteries: Swap out batteries while still maintaining continuous power.
Upgradeable: User upgrades and replacement modules make this unit a cost-effective UPS system for a growing data center.
Remote management: Monitor the UPS over a remote network for increased flexibility and control.
Architecture: Compatible with APC's InfraStruXure, the small business IT management tool.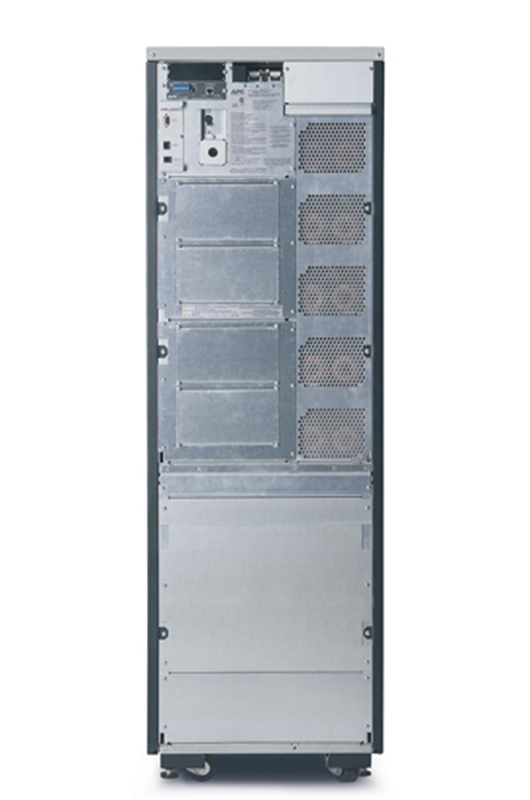 Benefits
This UPS system is made to provide continuous power to your critical environment equipment with scalable features and a decreased footprint. Efficiency lets you get more out of your power while managing energy usage for your devices.
Easily scale: Increase power and runtime as the need arises.
Superior battery performance: Get clean, uninterrupted power when swapping out batteries, and get more out of your battery life with the Symmetra LX's efficient power use.
Upgrade quickly: Nearly all of the unit's parts are contained in field-swappable units for fast, easily maintenance and upgrading.
High efficiency: A small footprint means this unit makes the most of its energy an reduces waste, saving you money without sacrificing power to your equipment.
Safety: In the event of a power outage, this UPS system provides temporary battery power until your generator can take over, keeping data center hardware safe from sudden shutdowns.
The SYA16K16PXR comes with a user manual, installation guide, CD with software, documentation CD and web/SNMP management card.
A reliable, efficient UPS system like the SYA16K16PXR tower is essential to protecting your IT infrastructure against power surges and other disturbances. Custom Networks provides APC products such as the SYA16K16PXR, offering the best power protection solutions. Contact Custom Networks to learn more about how our team can help you prepare your business to avoid expensive downtime.